Treat Your Skin With Bliss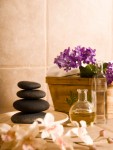 A class designed for women and girls! In this class We will:
go through a 6 step home facial routine
Make a Face oil (explore oils for different skin types)
Make an all natural body cream (Such Fun Chemistry!)
Work through a mood matrix to identify oils that will ease, calm, de-stress, or work as an aphrodisiac!
Fee: $7
When: Tuesday May 27 7PM and Saturday May 31 10:00AM
Schedule here