Specialties:    Marilyn's Divine Special, Aroma Touch Technique, Meditation & Reiki Combo, Spiritual Life Coaching with Reiki, Swedish Massage, Reflexology, Intuitive Massage, Private Meditation, Chakra Balancing *Aura Toning* Crystal Healing Session, Private Classes – Metaphysical/ Spiritual Topics, Heart Chakra Activation with Reiki, 2-Hour Swedish Massage, Deep Tissue Massage.
She currently sees clients for Spiritual Life Coaching, Reiki Energy Healing, Private Meditation, Chakra Balancing, Heart Chakra Activation with Crystal Bowl/Crystals, Aroma Touch Technique, 2 hour Divine Bliss Session,  Massage Therapy, and Reflexology.  Marilyn became a WV Licensed Massage Therapist; adding further to her skill set and expanding her business offerings.  She was a guest presenter at the Bliss-Yoga Teacher Training Program in 2015 and 2016 on Meditation and the Heart Mind Bridge, 5th Chakra.
Marilyn is the owner of Guided Services, LLC, which specializes in Well-being practices for the Mind, Body & Spirit.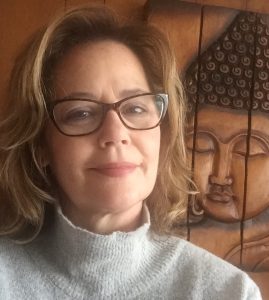 Guided Services was created in 2007 in order to facilitate meditation groups in Fairmont and Bridgeport through the Pierpont Technical and Community College.  The journey to creating Marilyn's business in the healing arts began in 1992.  At the time, she was attending a spiritual seminar.  Learning how to meditate came up as a topic.   "At the mention of meditation, it was as if a light bulb went on in my head.  I knew I needed to explore this idea and anything related!"  From that day forward, the "light bulb" has never burned out, thank goodness!   Her exploration, study and interest in spiritual well-being modalities, has continued to joyfully evolve to this day.
Marilyn arrived at Bliss in 2011, co-teaching  "Rebirthing with Breath & Meditation" with her friend, Laurel Faulkenberry.  In 2013 Marilyn, began hosting her "Meditation Talk Series on Self Empowerment",  and "How to Connect to Your Spirit Guides."   She also taught "Creative Meditation" on Wednesday evenings from 2014-2016.  
Marilyn is sensitive to the needs of her clients and passionate about helping them achieve more peace, relaxation, stability and joy!       
Hobbies:   Walking, Skiing, Throwing Pottery, and Inspired Writing.
Certifications:  WV Certified and Licensed Massage Therapist, Member/ Assoc. of Bodywork & Massage Professionals. Licensed & Registered Minister in WV.  Reiki Master.   Certification coursework in: Crystal Energy Healing, Mediumship and Meditation.  *New Certification coming in 2017*
Phone: 304-413-0270 (Bliss Office) | 304-288-8963 (Cell)
Website:  www.marilynhastings.com     Facebook:  Guided Services
Email:  [email protected] | [email protected]